Smy Hotels disembarks in the Canaries with its first hotel in Tenerife
Smy Hotels, the hotel division of Logitravel Group, the leading tourism provider in Spain, Portugal and Italy and operator of 7 hotels in Spain, Greece and Italy, has chosen Puerto de la Cruz in Tenerife for the opening of its first hotel in the Canary Islands.
With this forward-looking venture, Smy Hotels formulates a new concept for the hotel sector which combines the best of traditional hospitality with the latest technological business solutions.
The quality of the facilities, food and services cool, light-filled rooms. excellent beds, superior cleaning and peace and quiet to ensure a good night's sleep combine with thoughtful use of technology based on communication and shared experience, to offer guests a stay that's original and different.
Jose Antonio Granja, CEO of Smy Hotels, explains that "this opening Is Important because It's our second hotel in Spain, at a time when the Spanish tourism industry – and the Canaries in particular – is facing major challenges due to competition from other Mediterranean destinations, This is why we've put our best talent and aspirations into this project. We're not only seeking to offer our guests the highest standards of quality service and personalised attention, but also to boost Spanish tourism and the economy".
In addition to opening the Smy Puerto de la Cruz, Smy Hotels also plans to inaugurate new hotels in Greece, Italy and Tunisia this year.
About Hotel Smy Puerto de la Cruz
A four-star hotel with 300 rooms, located in Puerto de la Cruz, Tenerife. Its location, very close to San Telmo beach and Lago Martienez and a few minutes walk from the town centre, make it the ideal accommodation for events, couples and families looking for an unforgettable stay in Tenerife.
The hotel's facilities, reception rooms and bedrooms all have fabulous views of the sea and mount Teide, and abundant natural light. This makes it a landmark in the island's tourism scene, thanks to the appreciation of guests. The hotel offers comfortable modern accommodation over more than 34,000 square metres, including spacious and beautifully designed public areas, tennis court swimming pool and sunbathing area surrounded by subtropical nature, a heated pool, an outdoor children's play area, 3 events rooms, car park. 2 bars and a restaurant.
Rooms feature comfortable beds, safe, cool/warm air conditioning and terrace or balcony specifically designed for outdoor enjoyment of the views and provided with comfortable terrace furniture. With Smy Hotels focus on technology. rooms are equipped with free high-speed internet connection, smart TV. telephone and USB ports.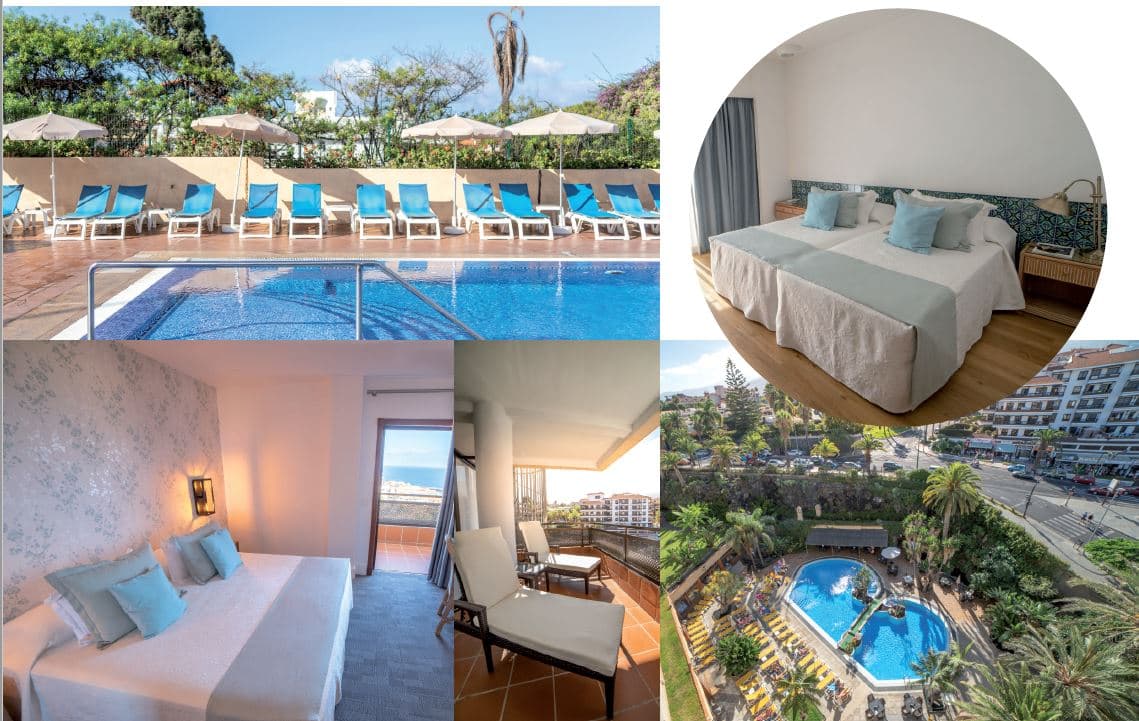 Categories: Notas de prensa
« Smy Hotels puts its trust in ITM Global as supplier of fibre optic systems
Smy Hotels disembarks in Tunisia with its first hotel in Djerba »